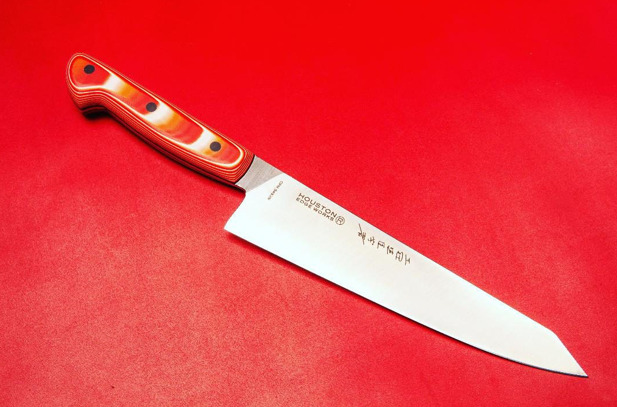 Now available for purchase is the Houston Edge Works chef knife I designed for both home and professional chefs. It is the perfect "line knife" for preparing a meal for two, a feast for 20, or working 12 hours on the line, especially when you get "in the weeds."
Each knife has been adjusted, shaped, and balanced by me, Dr. P, and finished and assembled here in the US. The handle material is custom red/orange/white/black G10 I designed and the ¼ inch pins are carbon fiber. It creates the visually striking moiré pattern and is very eye-catching, even across the kitchen consistent with my usual style of my 100% custom knives. The handle is ergonomically shaped with a softened "bird's beak" and is tapered wider at the butt end of the handle. It sits snugly in the palm and resists twisting when hands are wet and decreased fatigue in the wrist, palm, and fingers. This is one of the key comfort features I love in my knives, especially the ones I uses on a daily basis as a forensic pathologist. Each knife comes with a custom fitted leather saya (blade cover) and is hair-shaving sharp out of the box.
The steel I chose for this knife is Crucible's incredible CPM S45VN. It is one of my favorites and is a powdered stainless steel that I use in my 100% custom blades. It has amazing edge holding, toughness, and the ability to sharpen is ideal for a chef knife as well as in the field.
The dimensions of the blade are 212mm (8-3/8 inches) long and 47mm (almost 1-7/8 inches) tall at the heel. This gives the knife a nimble feel in the hand and an amazing agility on the cutting board whether you slicing a roast or prepping your mise en place. You will feel the amazing cutting power in this blade. And it's tall enough for knuckle clearance while chopping whether you wear a size 6-1/2 or a size 8-1/2 surgical glove.
The profile of the blade is a kiritsuki-tip gyuto, preferred by my professional chef customers. This has the benefit of having a stronger tip as well as the front being a great way to peel ginger. The spine and choil (where you finger rests in front of the handle) are fully rounded for comfort.
These are the classic dimension I have chosen from years of making custom knives with my favorite Japanese cutlery aesthetic. There is a beauty in a well proportioned blade that will become an extension of your hand and consequently of your creativity in the kitchen.
For sharpening, of course the best are always waterstones that you soak and use several different grits. It's really for the knife enthusiast and someone willing to learn a new skill that they will use for a lifetime. I recommend a 1000/6000 grit combination stone that cost about $30-$45 from various online sellers including Amazon. However, for quick edge refreshing I recommend to all my customers (enthusiast and professional alike) the MAC brand ceramic rod. It has two different opposite facing surfaces for two different grit levels. Without a doudt the best sharpening rod you can get and costs about $55 online. For a short time the Worksharp M3 ceramic sharpener was available separately and was a shorter version of the MAC and actually had a takedown feature for easy of storage. If you can find one, they are comparable to the MAC.
I DO NOT recommend any sharpeners that grind or remove metal. Those include ALL pull through sharpeners, Chef's Choice sharpeners, Worksharp motorized sharpeners, metal chef rods (with or without diamonds), and cheapo ceramic chef rods (yes, like the $10 ones on Amazon or IKEA). These will all destroy the edges of any knife and create an arc in the cutting edge and it will not perform well at all. ALSO, I do not recommend taking any knife to a hardware store or "professional" sharpener who uses any sort of motorized belt grinder or spinning stone wheel grinder.
Knife Specifications:
Blade Steel CPM S45VN powdered super stainless steel
Blade length 212mm (8-3/8 inches)
Blade height 47mm (almost 1-7/8 inches)
Overall Length 350mm (13-3/4 inches)
Edge grind 50/50 grind at 15 degrees per side
Handle Custom G10 in white/orange/red/black, carbon fiber pins
Saya Leather
Price: $550.00 plus UPS shipping with signature confirmation, insurance is suggested and extra
Delivery is HOPEFULLY by Christmas, but cannot be guaranteed due to circumstances beyond my control.